I was recently lucky enough to work with a 4 and a half month old blue merle great dane! Today I'll share some pics from the shoot, and fill you in on how a session with a young puppy typically goes.
Ordinarily, before the official day of our photoshoot I always invite pet owners to come to the studio with their pet for a consultation. This preliminary appointment lets me check out 3 main things:
How they react to the camera and the flash
If they feel weird about standing on my paper backdrop
If they have a general grasp on commands
When a dog arrives at my studio I always start off by letting them sniff around the space for as long as they need to. This usually begins with a little bit of on leash exploration just to make sure they don't knock any of my stuff over in their excitement to be in a new place. Then we take the leash off and let them do their own thing while the pet owner and I go over logistics. This also helps for when they come back the day of their shoot. They'll already know what the deal is in that room and they'll (hopefully) be ready to cooperate!
However, Eiffel didn't get the chance to come in for a consultation appointment because she and her family live in Alabama. This worked out totally fine for her though! She had no issues with any of the studio equipment and was super well behaved so we were able to jump straight in.
After Eiffel and her mom Brooke took a couple minutes to get the pup adjusted to the space we started out with standard seated and lying down poses. I like to get these out of the way first before we get the dog riled up with toys or treats. It was during this time that I got the above shot of Eiffel shaking those big floppy ears! I had so much fun capturing her silly, clumsy puppy nature. This baby already weighed as much as my adult australian shepherd but had about 1/8th of the coordination hahaha.
Once we were done with the headshot equivalent of dog photography, we moved on to incorporate treats and her favorite toy.
For both young puppies and giant breeds I love to shoot a few photos with a wide angle lens. It gives a really goofy, whimsical look that I think is absolutely perfect for a great dane puppy. I snagged the above shot of Eiffel with her favorite little lamb toy on the wide angle and the client loves it! As for the pic of her licking her chops: I got permission from Eiffel's mom to give her some peanut butter.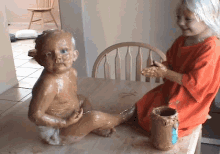 To close out the shoot once we had broken out the holy grail of dog treats, I decided to try out a shot I hadn't attempted before. The ever popular glass licking pic.
We smeared a small dollop of PB on a sheet of plexiglass and let Eiffel go to town. I think for a first attempt this went pretty well! I'm excited to try out a few different techniques of the same shot in upcoming sessions.
I loved having Eiffel in the studio and I'm super stoked for the upcoming pet shoots I have this summer! If you're interested in bringing your pet to shoot with me I would be absolutely thrilled to have you.